Feature Products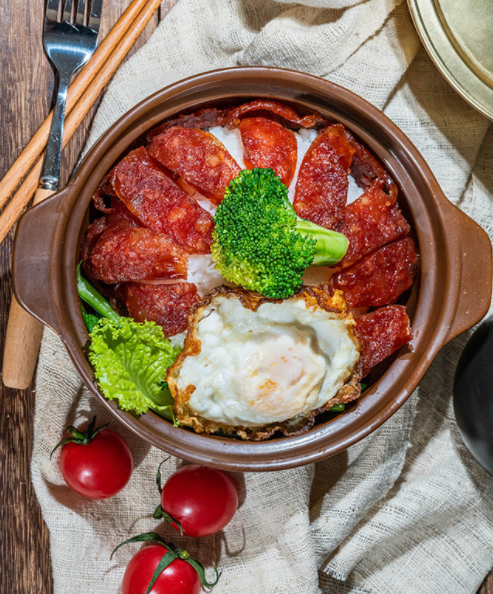 DIRECTIONS
To prepare the sauce, add boiling water and white granulated sugar into a bowl. Stir till the sugar dissolves. Add the soy paste, oyster sauce and dark soy sauce. Stir well and set aside.

Add the Chinese bacon, Chinese sausages, spring onion and ginger. Place the ingredients onto a plate and pour 1 tsp of rice wine. Wash the rice and drain well. Blanch the Cantonese Chye Sim and set aside.

Pour in 350-380ml of water into the Visions 3.5L Stockpot with the washed rice. Gently shake to let the rice settle before closing the pot. Using the World Kitchen Smart Pot, turn the knob to the "Claypot Rice" function. Press the touch screen on the knob to start cooking. The default cooking time on this mode is 55-65 minutes.

The cooking status will display on the screen with a red light on the knob.

Add the Chinese bacon and Chinese sausage once it has cooked for 30 minutes. Cover well.

The 'Keep Warm' mode with green light on the knob of the Smart Pot will show once cooking is done.




Remove the chopped spring onion and ginger. Pour in the prepared sauce into the Smart Pot. Stir it well before adding the Chye Sim.

Remove the Visions Stockpot and let it sit for 10 minutes. Serve the Claypot Rice in a Corelle bowl and enjoy it from the comfort of your home.